I think my husband and I would agree that becoming self-employed has been the best/hardest thing that we have ever done. We had no idea getting into our own business would involve so many struggles. Yet this very process has caused us to lean on God and each other in ways that we never would have had we not entered into this adventure. But even if with all of the good that we can see, the life we have chosen is still challenging.
That is why when I heard the subtitle of the book, More than Just Making It was Hope for the Financially Frustrated, the title popped to the top of the my "to-read" it. Even with all of the clear and evident ways that God has made a way for us over the past 2 1/2 years, looking ahead at a murky future still seemed challenging. And overwhelming. I definitely was looking to add hope to despair.
I am definitely thankful I was chosen to be a part of the launch team. Bonus: I got to read the book early. And the insights I took away will forever impact me.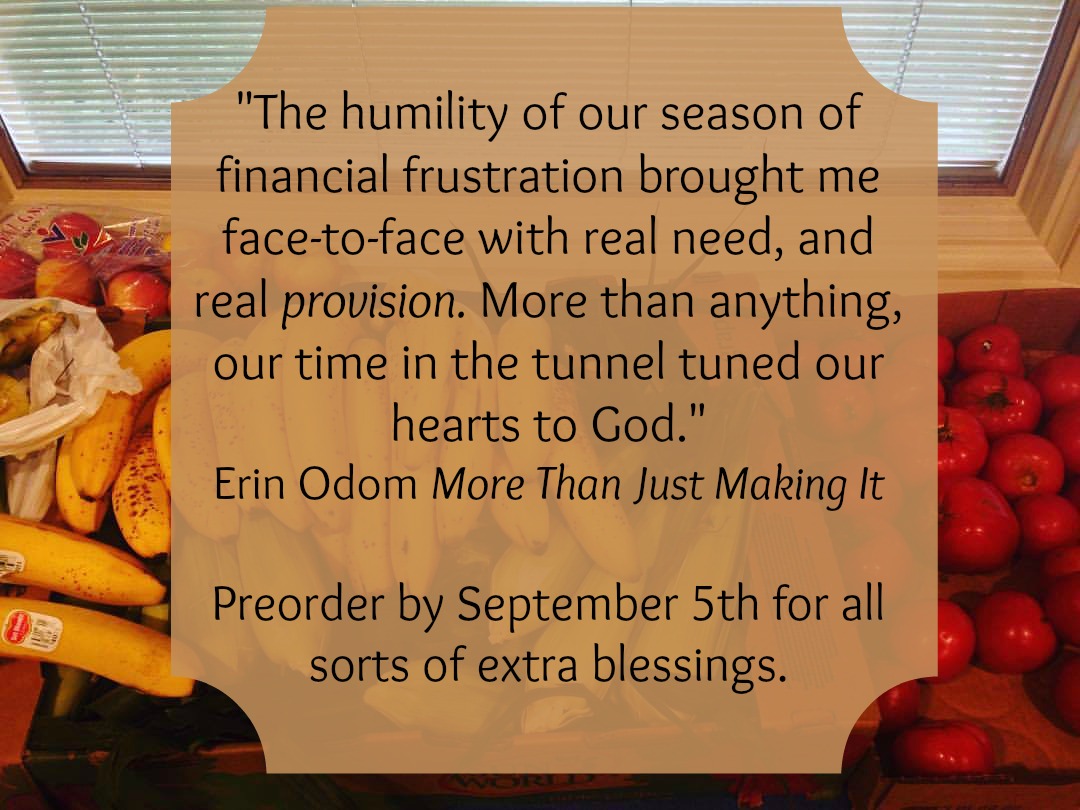 First, I could definitely relate to Erin's perspective that I do not always understand what God's provision entails. Sometimes I forget that God giving just enough is still enough. I want to depend on him even if the process is not easy. And that is definitely the path that we are on with our business. Reading through the #kissesfromJesus posts have definitely been encouraging and have helped me to realize that others are struggling financially as well. We can support each other and be visual reminders that does God care for us.
Second, Erin pointed out that too often if we are struggling financially, we think that we need to spend less. While living on a budget is always a good idea, sometimes cutting back anymore on expenses may not be possible. Instead the need to make more money. That is definitely true for us. We need to find a way to make more money. And that process takes time.
Third was a lesson I did not anticipate. I did not realize how negatively people feel about those who are getting assistance in the midst of their poverty. Or what a stigma I personally feel toward those who are getting help. I know that I often assume that those who are on food stamps are possibly lazy. But maybe that is not the case at all. I still need to pray through some of my stereotypes toward those who are struggling. This book definitely helped me to be more aware of my prideful heart.
While I did get a free copy of the book, More than Just Making It, the opinions in this blog post are my own. I will definitely read through parts of this book again and again to remind me of my need trust God. Erin's book is full of practical tips, suggestions and insights. Until September 5th if you preorder the book, you can receive all sorts of bonuses. Watch the clip below to learn more about why Erin wrote this book and how it can encourage people in all sorts of financial situations.
This is an affiliate link to purchase the book. By using the link, you help to support my writing (and reading) life at no extra cost to you. Thank you!