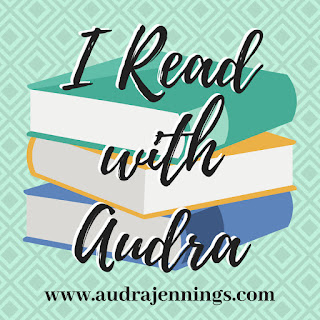 Do you remember that last week I mentioned that I was going to tell you more about Shadows in the Mind's Eye by Janyre Tromp? Well, today is your lucky day. Not only am I going to tell you more about the book and the author, but I am also going to tell you how you can enter a giveaway to win the book. All courtesy of the "I Read with Audra" Book Tour.
Charlotte Anne Mattas longs to turn back the clock. Before her husband, Sam, went to serve his country in the war, he was the man everyone could rely on–responsible, intelligent, and loving. But the person who's come back to their family farm is very different from the protector Annie remembers. Sam's experience in the Pacific theater has left him broken in ways no one can understand–but that everyone is learning to fear.

Tongues start wagging after Sam nearly kills his own brother. Now when he claims to have seen men on the mountain when no one else has seen them, Annie isn't the only one questioning his sanity and her safety. If there were criminals haunting the hills, there should be evidence beyond his claims. Is he really seeing what he says, or is his war-tortured mind conjuring ghosts?

Annie desperately wants to believe her husband. But between his irrational choices and his nightmares leaking into the daytime, she's terrified he's going mad. Can she trust God to heal Sam's mental wounds–or will sticking by him mean keeping her marriage at the cost of her own life?
Debut novelist Janyre Tromp delivers a deliciously eerie, Hitchcockian story filled with love and suspense. Readers of psychological thrillers and historical fiction by Jaime Jo Wright and Sarah Sundin will add Tromp to their favorite authors list.
Janyre Tromp is a historical novelist whose loves spinning tales that, at their core, hunt for beauty, even when it isn't pretty. She's the author of Shadows in the Mind's Eye and coauthor of It's a Wonderful Christmas.

She's also a book editor, published children's book author, and lives in Grand Rapids, Michigan with her family, two crazy cats, and a slightly eccentric Shetland Sheepdog. And if you ever meet in person, you pronounce that first name Jan-ear.

You can find her on Instagram, Twitter, Facebook, and her website, www.JanyreTromp.com (where you can grab a free copy of her novella Wide Open).
(A note from Gretchen – that novella is another great book that is definitely worth reading!)
Want to know what I thought about Shadows in the Mind's Eye? Check out my review that I already shared on my blog. Click on the image below to be taken to that link. 🙂
P.S. Want to read an excerpt of the book? Check out the link on the "I Read with Audra" Blog.