For the next three weeks, the Read with Audra blog tour team is hosting a blog tour for Amanda Wen's The Songs That Could Have Been, the second book in the Sedgwick County Chronicles series.
I am SO excited to be a part of this tour. Amanda's first book, Roots of Wood and Stone, was one of my favorite books of the year in 2021. I loved this second book just as much.
Please read on to learn more about Amanda and her new book, then enter to win a copy of your own at the end of the post.
Two couples in love.
Two sets of impossible circumstances.
One powerful        God of grace.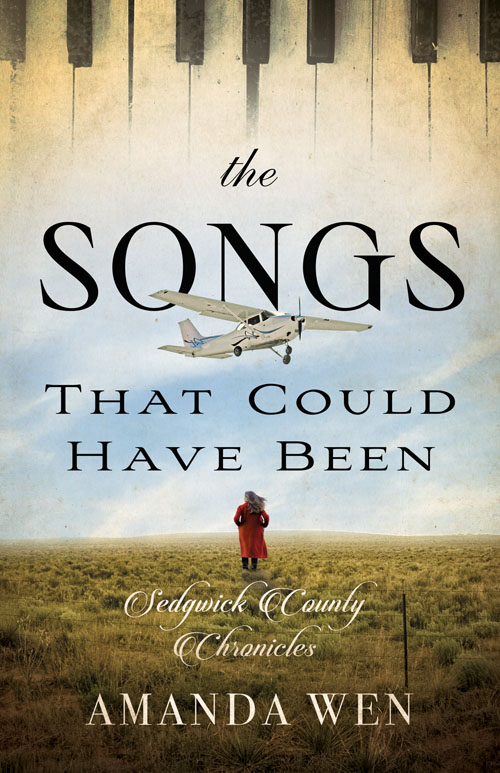 After a devastating tailspin in her late teens, Lauren Anderson's life is finally back on track. Then a chance meeting with Carter Douglas, her first love and the man who broke her heart, threatens to throw her well-balanced world out of control.
Now a TV meteorologist, Carter is determined to make amends with Lauren. After all, she still owns his heart. But his old demons are forcing him toward the same decision he faced in the past. Is he courageous enough to make a different choice this time around?
When Lauren's elderly grandmother, Rosie, begins having nightmares about a man named Ephraim–a name her family has never heard before—a fascinating and forbidden past love comes to light. As Lauren and Carter work to uncover the untold stories of Rosie's past in 1950s Wichita, they embark on a journey of forgiveness and second chances that will change their lives—and Rosie's—forever. Along the way they'll learn that God wastes nothing, his timing is perfect, and nothing is beyond his grace and redemption.
What Others are Saying about the Book
"A reading experience both heartfelt and heart-tugging, a timeless exploration of young and enduring love and the grace found in second chances. Amanda Wen is a rare and remarkable storyteller, and this is a novel I will not soon forget." –Amanda Barratt, Christy Award-winning author of The White Rose Resists
"A stunning journey of loss, love, and yearning. . . . Past and present are deftly woven together in this dual-timeline narrative that will leave readers flying through the pages." – Amanda Cox, author of the 2021 Christy Award Book of the Year, The Edge of Belonging
Amanda Wen is an award-winning writer of inspirational romance and split-time women's fiction. She has placed first in multiple writing contests, including the 2017 Indiana Golden Opportunity, the 2017 Phoenix Rattler, and the 2016 ACFW First Impressions contests. She was also a 2018 ACFW Genesis Contest finalist. Her debut novel was a 2021 Christy Award First Novel finalist.
Wen is a member of American Christian Fiction Writers (ACFW) and regularly contributes author interviews for their Fiction Finder feature. She also frequently interviews authors for her blog and is a contributor to the God Is Love blog. She is the author of Roots of Wood and Stone and The Songs That Could Have Been.

In addition to her writing, Wen is an accomplished professional cellist and pianist who frequently performs with orchestras, chamber groups, and her church's worship team. She serves as a choral accompanist as well. A lifelong denizen of the flatlands, Wen lives in Kansas with her patient, loving, and hilarious husband, their three adorable Wenlets, and a snuggly Siamese cat.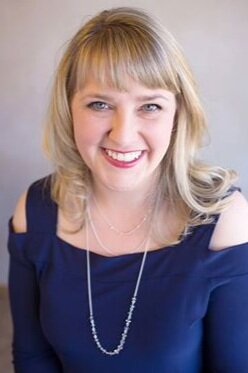 My Review of The Songs that Could Have Been
"The world – hers, his, the world at large – would try to convince them it was wrong. But it was right, and all that came of it would be right. And she didn't have to convince anyone right now. Because right here, right now, on an empty stage, it was just them. She wished it could stay like that forever."
I was eagerly anticipating this second book the Sedgwick County Chronicles. (I LOVED the first book in the series, Roots of Wood and Stone). Sometimes sequels can be disappointing, but that was not the case at all in this book. I loved book two just as much! Before you read this title, I do suggest that the original book in the series is read first.
In the first book, we meet Lauren, the main character Garrett's sister. We see glimpses of her story, but this title tells more about some of the struggles that she has faced. She is a successful food blogger, but her motivation for pursuing that field may be a bit off.
Carter, her ex-boyfriend, is mentioned once in the previous book. All we know is that he is a meteorologist, and that they broke up. Now we find out why. Carter and Lauren are recovering from some serious struggles that could keep them apart. What I appreciate about this book is that both of them come to realize that they need to deal with their issues with God's help rather than purely relying on each other to solve their problems. They seek solutions by looking to God and also to wise counselors.
This is a dual timeline book. We also find out more of Lauren and Garrett's Grandma's life. She grew up in 1950's Wichita and was involved in a bit of a forbidden romance with a man of whom her family would not approve. This would be a tough topic to write about, but the author handles the topic with understanding and grace.
While reading this one, I felt a full rush of bittersweet emotions – joy to sorrow to grief. Music, flying and cooking are some of the hobbies that add to the storyline as well as the importance of family and faith. I could say SO much more about why I loved the book, but I do not want to spoil any of the details that are gradually uncovered.
As a part of a book tour, I received a complimentary copy of this book. I would have read it no matter what, and I would have reviewed it. All opinions are my own.
Click here to learn more about Roots of Wood and Stone, the first book in the Sedgwick County Chronicles written by Amanda Wen.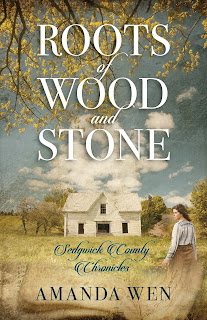 Click here for another chance to win (Link to the "I Read with Audra" Blog)
Disclaimer: I was provided a copy of this book through the tour. I wanted to read, review and share about this book. All opinions stated above are my own.