When Henri Tupuola returned to Suamalie to open his holistic mental health clinic, he had no idea what he was getting into. After ten years in Australia getting his degree and practical experience under his mentor, the locals had all but forgotten the quiet "boy"  who had always made them feel like he could see right through them.
Not anymore! The ladies of Lafoina are eager to meet the island's therapist and spend hours staring deeply into his eyes on their weekly dates… ahem, sessions.
Desperate for relief, he hightails it down to The Title Wave and begs Ezra to order him a couple dozen copies of his own book. Yes, author copies would be cheaper, but he needs these things fast. Maybe if he hands out his book like an old-time quack handed out pills, the ladies will get the hint and leave him alone.
But when he tells his troubles to Ezra (who's the therapist now?), and she jokes at how much her father would love to have people flocking to his "sessions" so to speak, Henri gets an idea that could save his sanity… if only Ezra will agree.
Take a trip to the Suamalie Islands where palm trees sway, the sand and sea pulse with life, and the people will steal your heart.
USA Today Bestselling author Chautona Havig lives in an oxymoron, escapes into imaginary worlds that look startlingly similar to ours and writes the stories that emerge. An irrepressible optimist, Chautona sees everything through a kaleidoscope of It's a Wonderful Life sprinkled with fairy tales. Find her at chautona.com and say howdy—if you can remember how to spell her name.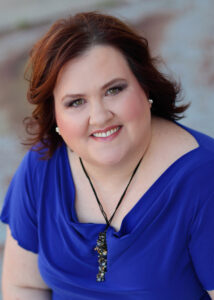 It happens with every book—probably for every author. What "it" is… that's always different. Sometimes it's the moment you realize that your character has morphed into someone you didn't intend for him to. Other times it might be that you discovered a huge plot hole in your mystery and there's no way any of it would have happened (not that I've ever had to deal with that or anything). It could be that your characters don't have chemistry (and that doesn't have to be romance—friends should have it!). Let's face it. Lots of things can derail a book.
And if you don't lay some new track fast (think Gromit in A Grand Day Out laying tracks as fast as he can as the toy train hurtles him after the penguin), your story could end up as the biggest trainwreck this side of… wherever they have bad train wrecks.
Or in my case, sink the book boat.
So there was blithely typing my first chapter when I realized something was wrong with my premise for The Title Wave. See, I had a plan. This would be a fake-dating romance. A local therapist needs a fake girlfriend to get the women to quit hitting on him when he was supposed to be helping them with their problems. Reasonable right?
Yeah. There's all kinds of problems with this… starting with the fact that I don't actually enjoy FAST romances… and I wanted them together—like totally committed—by the end of the book. OOPS! Not only that, but come on. Fake boyfriend/girlfriend? Ezra is an MK. This girl isn't going to want to live a deception like that. She's got a sensitive conscience, thanks to close ties with the Holy Spirit Who indwells her. She's not going to do that.
But I needed her to.
I have this group of ladies who read everything as I write it. Most have been with me for over ten years! So, when I realized my book was in serious trouble (as in drowning before it really got out to sea!), I went to them and told them what I wanted/needed to happen and why it wasn't going to work.
Guess what? They came through for me (as they always do—love you, Escapeables!). After just a bit of tossing out ideas and lobbing them back and forth, things fell into place.
Yes, Henri will approach Ezra with the idea.
Yes, Ezra will have a fake boyfriend.
And yes, being the romance it is… they WILL be committed by the end and without irritating myself with a bunch of insta-love.
Somehow. Since I'm writing this before it all plays out, we'll both have to see just how that all works out. Join me for a cruise through love-tossed waters?
"Yes, she should be on her boat, motoring over to Lafoina in plenty of time to grab something to eat before waves of customers swarmed her store, looking for their next read. Well, she could dream, right? Ezra sure hoped so, because that's what she was doing instead – lying in bed, working hard to jump start her stalled dream."
As a missionary's daughter, Ezra Nehemiah was always trying to find her place. And she hoped it might be operating a boat bookstore – one where she could travel along the Suamalie Islands to deliver her dream of providing book escapes for others. But gaining momentum is hard. Then her lifelong friend, Henri, returns, and she finds herself playing the role of his fake girlfriend – a title that she hoped would be real for years.
I wanted to love this book as Ezra has been a fun part of several of the author's book, I have really enjoyed her as a character. But in this book, she seemed overbearing and overly sensitive at times. I really liked Henri, for his love and care for his Ezziemiah was lovely to see. The other characters also added to the storyline, and so did the wedding for two other islanders.
This is evidence of one of my frustration with this book. At one point, Ezra was reading a book and the details of the plot become one of the chapters. That really confused me as I did not think that it made sense. It distracted me to the point that I almost did not want to finish the book.
But the ending was very sweet, so I am glad that I finished it. Several other parts were good. I liked the book but didn't love it like I hoped I would. So this one gets a final rating of 3.5 stars from me, rounded up to 4. Note: I read this book as a part of a tour, but I actually checked it out from Kindle Unlimited.