Legal suspense might be one of my favorite genres.  There is something about courtroom drama that can be riveting.  Although I have never had any desire to become a lawyer myself, I am intrigued by the process.  Especially if the ultimate desire is to delve deep enough to find the truth.  While I may be far from a law degree, Cara Putman is not.  She has been a lawyer for many years.  Now she is now using her expertise to add credibility to her books.  Her Hidden Justice series revolves around several female lawyers who are friends outside of the courtroom.  Yet all of the women are also on their own quests to find justice for their clients.  Beyond Justice is the first book in the series
The premise behind Beyond Justice is a complicated case.  In this book, lawyer Hayden McCarthy gets involved in fighting several unexpected issues that revolve around the government, illegal immigration and a drug cartel.  Parts of the story are a bit predictable such as the anticipated romance between the two main characters.  There are definitely enough twists and turns to keep readers guessing.  What I appreciate about Putman's books is that while romance is one of the elements, that part is not the focus.  What drives her books is the search for truth and justice.
This is one of my favorite quotes from the book …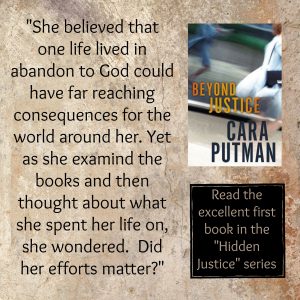 Beyond Justice challenged me to think about how I felt about issues currently in the news such as illegal immigration.  Although I can come to a quick opinion, sometimes there is more going on than what I understand.  When people's lives are involved, the truth can definitely be harder to find.
If you would like to purchase Beyond Justice (and I highly recommend that you do!), here is a link that makes your purchase easier.  This is an affiliate link which means that you if order by clicking "shop now" you help to support my writing at no additional cost to you.  Thank you!
Before Beyond Justice …
By the way, this series actually started several years ago.  Although I am not sure that is what Cara intended, a novella published by her several years ago ended up being the catalyst.  Dying for Love was originally a part of the 3-in-1 novel, Cherry Blossom Capers. Several of her  main characters in her "Hidden Justice" series have at least a cameo role in this initial book.  Although you can certainly buy the book that contains novels by two other authors, you can also now download just the prequel.  (Another affiliate link is below).