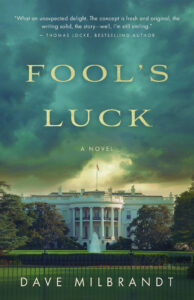 Author:
Dave Milbrandt Genre:
Political Fiction Release date: July 13, 2021
When high school teacher Myles Bradford wins the Powerball lottery, he decides to do something truly unexpected: run for President of the United States. Bradford is eager about the opportunity, but his family clearly is not. With little time to sway them to his side, he's thrust into running a quarter-billion-dollar nationwide campaign, complete with cross-country flights and road trips, expert staff, and armed security. But like most dreams, Bradford soon finds that what he imagined is completely different from what is real. Thrust into the spotlight, he faces attacks from newfound political enemies and false accusations while striving to climb the ladder of success. As Bradford gets closer to achieving his dreams, danger lurks on the home front. As his attention is pulled farther away from the things that matter most, Bradford may learn that even success has its price. Will he be able to have it all? Or will his thirst for power come at a tremendous cost?
"What about Ambassador Ferguson? She's got foreign policy experience coming out her ears."
He flicked away what I thought was very sound advice. "Juliet's not a team player." He sat down and leaned toward me. "I know it's a lot to take in. Take a minute, why don't you?"
I took a couple deep breaths, which didn't help as much as I had hoped. Then my stomach rumbled, and I blushed in spite of myself.
"I can order some room service if you like."
"Yes—no. Actually, I just need to go back to my hotel, get something to eat, and take a moment to think through a couple of things. Can I call you in an hour—ninety minutes tops?"
Frustration crept into his expression. "You know, most people wouldn't have to be asked twice to be the next vice president."
"Possibly, but most people don't go on national TV and call the brother of a war hero a coward." I took a breath to keep me from saying something even more stupid.
Want to read more? Please check out these additional excerpts.
(Excerpt Five is found on this blog)
The author of the Jim Mitchell series of novels (Chasing Deception, Undue Pressure and Running), Dave Milbrandt fell in love with writing in junior high and has been a storyteller ever since. A former staff writer for a daily newspaper, the Southern California native spent five years in journalism and public relations before becoming a teacher.
In addition to working at several colleges, Dave has taught high school English and Social Science classes since 2005. Dave and his wife, Renée Lynn Milbrandt, who is also a writer, have been married since 1997.   Find out more about Dave and his latest projects at www.davemilbrandt.com