Chicago, 1933―Lucia Critelli will do anything for her ailing grandfather, including stand in a breadline to have enough food to make him a St. Nicholas Day meal. When she catches the eye of a goon who threatens her grandfather, she discovers the end of Prohibition doesn't mean the end of the mafia's criminal activity.
Retired Marine Scout Giosue "Gio" Vella can find anything, especially if it helps a fellow Italian immigrant, so he has no doubt he can locate his neighbor's granddaughter, who has gone missing from a local church. Keeping her safe is another matter. Especially when he chooses to hide out with his Marine buddy in Eagle, Wisconsin, the site of a barely-held truce among striking dairy farmers.
Will Christmas bring the miracle they all need or will Gio discover there are some things even he can't find, particularly when he stumbles upon the most elusive gift of all: love.
As Silent as the Night is the Christmas novella to To Stand in the Breach and A Strike to the Heart.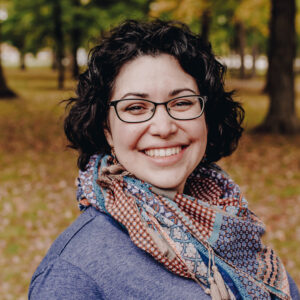 Danielle Grandinetti is author of A Strike to the Heart and To Stand in the Breach. She is also a book blogger at DaniellesWritingSpot.com. Her short stories have appeared in several publications and her writing has won the University of Northwestern Distinguished Faith in Writing Award. Originally from the Chicagoland area, she now lives along Lake Michigan's Wisconsin shoreline with her husband and their two young sons. Danielle especially loves quiet mornings served with the perfect cup of tea.
I have this memory, from when I was a little girl, of Christmas at my grandma's house. The table was expanded to hold a dozen people. The little Christmas tree stood on a table before the window, the Nativity beneath it. A gingerbread house sat on the radio cabinet, which played my grandpa's old Christmas records.
In the kitchen, my Italian grandma, now a widow, had on a ruffled apron as she cooked the Christmas meal. She had short, graying black hair, perfectly curled, and large, round glasses. And, was still taller than me, though she was under 5 foot in height.
Through the haze of childhood memory, I can't recall everything she cooked that Christmas, I just know it filled the table to overflowing. I can guess who celebrated with us, but I know the large table was completely surrounded by people I loved. And, I'm sure I received gifts, but that's not what I remember from that day.
What fills my memory is the feeling of family and the love my grandma showed us, through food. My full belly. My contentment. The wonder of the holidays. All through the eyes of my young self.
In As Silent as the Night, I attempt to capture some of this nostalgia, lace it with suspense, and wrap it in romance. I show about some of the traditional holidays celebrated by my characters, from St. Nicholas Day to Christmas Eve. And, while Gio can find anything, love eludes him. However, Lucia may hold the key, but he must first save her.
Silent as the Night concludes my Strike to the Heart series, which began with prequel novella To Stand in the Breach. As sad as it is to say goodbye to the farmers of Eagle, Wisconsin, I have loved sharing the stories of Katy and Joey, Lily and Miles, and Gio and Lucia with you. I hope you'll enjoy this last installment and I look forward to sharing more stories from other places with you.
Buon Natale.
Merry Christmas.
"He'd been a fool and wouldn't repay her forgiveness by walking away. he tugged her to a stop and put the St. Christopher back into her hand for the second time that night. "Keep this safe for me?"
She looked at him with wide eyes, and he knew she grasped his double meaning. He wasn't just giving her the medallion. He was placing his bruised heart in her hands."

Lucia just wants to continue living her life and spending time with her Grandfather. When her life is put at risk by a dangerous man, she agrees to leave town for awhile. How can the danger be eliminated, so she can go back to her former life? For me, this was a good novella. I think I would have enjoyed it even more as a novella. I wish that more the plot was developed as I almost felt like I needed more history or connection between the main characters to help make their story seem even more believable.

What I really enjoyed about this book is the Italian aspects. Certain Christmas traditions are mentioned. I also liked that Italian was a part of the storyline as well as other parts of what life would have been like for Italian Americans of the 1920's. In the author's note, she shares how the book is connected to her own life. To reflect your own heritage makes for an even better story.

This book is a part of the "Strike the Heart" series. The characters definitely overlap. I think this book is easier to follow and appreciate if the other two books are read first.

I enjoyed this book. I was provided a review copy of this book. All opinions are my own. I wanted to review the book.
To celebrate her tour, Danielle is giving away the grand prize package of a Bag of Books Bundle, which includes a signed copy of each book: To Stand in the Breach, A Strike to the Heart, and As Silent as the Night, plus a Donkey Tote to carry the books!! (https://www.etsy.com/listing/1130961309/donkey-canvas-tote-bag-heavy-duty)
Be sure to comment on the blog stops for nine extra entries into the giveaway! Click the link below to enter.